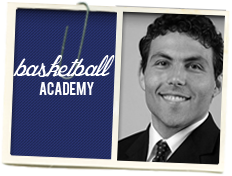 "Winning is hard."

"One of the things I like to say is the 'Five Ps': Proper Preparation Prevents Poor Performance."

"This isn't my team. This is our team, the community's team, the fans' team, the player's team."

"Age is a number. Age is overrated. If we were worried about age, Obama wouldn't have been elected, Tiger Woods wouldn't be doing what he's doing."

"I believe the best way to live your life is to be positive."

"Memphis you take an 'Loss', people are devastated. They're sick to their stomach. They take it like a coach. That's the big difference. There are very few programs that are similar to here, the investment that they have to the team."

"I took the names off the back of the jerseys; I locked them out of the locker room. I stopped feeding them hot meals, gave them a ham-and-turkey on white bread and bag of chips, wouldn't give them anything with the name of Memphis on their practice gear -- anything -- because I wanted them to understand ... that game is not acceptable."

"This is a total team….When you lose that falls on the coach. Players win games; coaches lose games. I've always said that to the guys, and I believe that."

"Can't tell you how much watching Lute Olson every day helped me"

"I remember being in the fifth grade and I'm watching a Lakers-Celtics game in my parents' bedroom and I thought then, 'I want to coach'."

"The foundation of all excellence is positive belief."

"I try not to cuss, I won't say I don't slip, but when I do I get upset at myself."

"I didn't get my (undergraduate) degree in 2 1/2 years and my master's in one without having great time-management skills. I have sacrificed sleep, making sure that we are prepared to go. We will be prepared."

"I'm jacked, ready to rock and roll. I'm not much of a sleeper, and I don't drink coffee either. I'm a high-energy guy. I love life. I'm a morning guy. I believe the best way to live your life is to be positive. From there, we'll take the next step."

It's that time again! Every summer, Coach Pastner hosts a Basketball Camp designed for children and adults. Now you and your kids can practice just like your Tigers. Meet and learn from current and former Tiger players, assistant coaches, and of course, Coach Pastner! This is a great opportunity to stay active during the hot summer months. Check out the 3 different options below to decide which camp session best fits you!
Sign up now or give as a gift!
Sign up now, print camp forms, or for more pricing information, go to CoachPastner.com
1. Parent/Child Camp: For GIRLS and BOYS, Ages 6-18, JUNE 14th from 9AM to 3PM
The perfect Father's Day Gift, this camp will provide a unique bonding experience between father and child.  The camp is tailored to enhance the father/child relationship through the game of basketball.  Both children and adults will have fun playing basketball and learning the fundamentals while spending quality time together and interacting with Tigers coaches and players.  Dads will learn drills and techniques to take home to help your child improve their skills and increase their love for the game of basketball.
 Cost: $105 per parent and 1 child – Each additional child $52.50

 Boys and Girls Camp
 Time:  9 am – 3 pm
 Camp includes lunch and a T-Shirt

2. Day Camps (9am-4 pm Daily):  For Boys, Ages 7-18, Choose a Session: JUNE 2-5, JUNE 9-12, or JUNE 23-26

The Josh Pastner Basketball Academy is designed to teach young basketball players the fundamentals of basketball while also emphasizing the fun of the game. The camp will include different methods of teaching the game of basketball such as small station drills, daily team practices, full-court games and group lectures given by current Tiger coaches that are designed to advance the players' understanding of game concepts and team play. Each team will be assigned a personal coach who will play daily team games to incorporate all of the fundamental skills they have learned throughout the day. All camps are open to any and all entrants except for when limited by age, grade or gender. (each camper will work with and play with campers of appropriate age/talent)
Each 4 Day session is $210.00
Includes camp t-shirt
Daily lunch
Daily lecture from Tiger coaches and special guests
Demonstrations by current and former Tiger players
Awards, prizes and giveaways
3. Power Hour: Boys rising 8th to 12th Grade, WEDNESDAYS and FRIDAYS in JUNE (ONLY $7.50 per hour!)

Power Hour Days:
June 4
4:30-5:30 pm and 5:30-6:30 pm
June 6
1:00-2:00 pm and 2:00-3:00 pm
June 11
4:30-5:30 pm and 5:30-6:30 pm
June 13
1:00-2:00 pm and 2:00-3:00 pm
June 25
4:30-5:30 pm and 5:30-6:30 pm
June 27
1:00-2:00 pm and 2:00-3:00 pm
Make sure when you sign up that you are SPECIFIC about which session that you will attend, as each session is limited to 25 participants.
One hour of intense basketball training with members of the Memphis Tiger basketball staff
Designed for rising 8th-12th graders who don't have much time, but want results
Practice like the Memphis Tigers do!
Sessions will be held at the Finch Center and the U. of Memphis Recreation Center
****Each participant is required to complete and return the
Josh Pastner Basketball Academy Medical Form prior to any participation. No exceptions.****
Sign up, print camp forms, or for more price information, go to CoachPastner.com