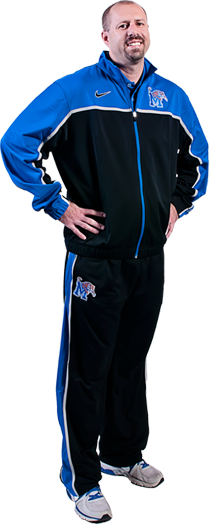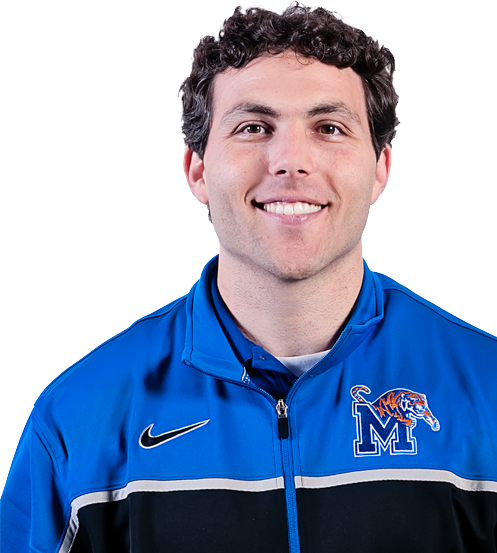 NUMBER OF SEASONS WITH THE TIGER'S:
5
EXPERIENCE:
2009-2014 UNIVERSITY OF MEMPHIS HEAD COACH
2008-2009 UNIVERSITY OF MEMPHIS ASSISTANT COACH
2003-2008 UNIVERSITY OF ARIZONA ASSISTANT COACH
2000-2001 UNIVERSITY OF ARIZONA UNDERGRADUATE ASSISTANT
EDUCATION:
UNIVERSITY OF ARIZONA - BACHELORS IN FAMILY STUDIES
UNIVERSITY OF ARIZONA - MASTERS IN TEACHING AND TEACHER EDUCATION
PLAYING EXPERIENCE:
1996-2000 UNIVERSITY OF ARIZONA
2013-2014 SEASON QUESTIONS
For you, what are the most important things to convey to the players and coaches to get them ready for the 2013-14 Season?
Trust the process - do your job - two feet in - on the caravan
This is the Tigers first year in the American Athletic Conference. What does the change in conference mean for the team? What new schools are you anticipating playing the most?
Ours and the ACC are the best leagues in the country, in my opinion. We have a multi-bid league and each night will be a battle. I'm anticipating everyone in our league, there are 6 schools we haven't played, regularly.
Having a majority of new players, what do you think is going to be vital in teaching and helping this team click as teammates in order for them to have a successful season as tigers?
We need to have good chemistry, everyone needs to accept their role and buy into their roles > and do your/their job.
If you notice a player slacking in school, workouts, games, or overall health, what is your go-to consequence to get his focus back to his responsibilities?
Depending on the area in which they slack will result in the consequence.
How will the addition of Robert Kirby and Jason Gardner influence the 2013-2014 team?
Both guys are proved experienced - Jason as a player - Kirby as a coach. Each Brings a wealth of knowledge to the team.
2012-2013 SEASON QUESTIONS
For you, what are the most important things to convey to the players and coaches to get them ready for the 2012-13 Season?
The most important thing to convey to the team this year is one team, one goal, no egos. This is a process and anything we get will have to be earned. Nothing will be given.
How much do you expect this team can improve on last years team accomplishments?
I expect us to improve from last year to this year. With our team being older, I want us to build on from last year on the defensive end and be good defensive from the start to the end of the year.
What players do you specifically want to step up into leadership roles? There are four Newcomers to the roster. What do you think is going to be vital in teaching and helping them click as teammates in order for them to really do well in there first season as tigers.
I really would like to see multiple guys step up to be leaders. This is their team. The student-athletes need to take ownership and responsibility of their team. Even with the newcomers, everything about this year is chemistry and really being together every step of the way.
Your first big recruiting class with Antonio, Joe, Tarik and Chris is entering its 3rd year, what do you really want to see them accomplish this year? What do you expect from them as far as leadership?
The juniors on the team have been instrumental in keeping this program at a very high level. I know they want to have the best year possible. They are all good young men who have worked very hard in the classroom and on the floor.
How has the addition of Aki Collins helped the rest of the coaching staff and players this off season?
My focus is when I hire people I want them to be future head coaches. And there is no doubt that I have continued that with two of my assistants. Damon Stoudamire and Aki Collins are both future head coaches and will be running their own program sooner than later. Plus having the veteran experience of coach Jimmy Williams makes this staff very complete and really really good in all areas.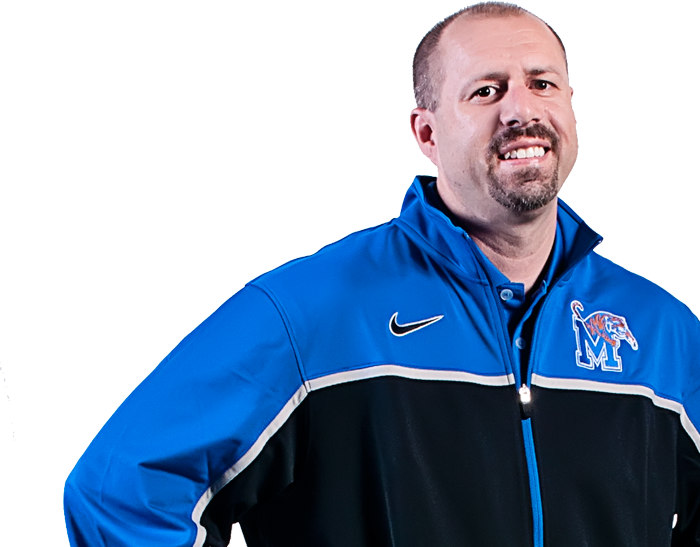 NUMBER OF SEASONS WITH THE TIGER'S:
5
EXPERIENCE:
2009-2014 UNIVERSITY OF MEMPHIS DIRECTOR OF OPERATIONS
2003-2009 DENVER NUGGETS MEDIA RELATIONS DIRECTOR
1994-2003 DENVER NUGGETS MEDIA RELATIONS MANAGER
EDUCATION:
SOUTHERN METHODIST UNIVERSITY
Most people have no clue what the Director of Basketball Operations does. Could you articulate for the layperson what it involves?
The Director of Basketball Operations at the college level wears many different hats. My job entails internal and external relations and communications - in other words, working with different departments within the athletic department such as compliance, finance and the box office and dealing with outside entities such as the Rebounders, our alumni and the general community. I work with Coach Pastner on our nonconference scheduling, which involves researching possible opponents and projecting their RPI, working with the FedExForum on possible dates and negotiating our guarantee games. I coordinate our practice plans and travel itineraries with our travel coordinator, the legendary Doo-Da. I oversee various projects that we may have such as facility updates and upgrades. I'm the camp director for our summer camps, which means I have to schedule the dates, advertise it, handle registration, hire counselors and make sure everything runs smoothly. That's it in a nutshell, although that's not an exhaustive list. No two days are the same!
You, like Jimmy and Damon, have experience with the NBA, can you describe the transition from the professional to the college level?
The transition was fairly seamless, although there are obviously some differences. First and foremost, since you're playing so fewer games in college, they all are so important. In the NBA, you might play four tough games in five nights in four different cities and hope to just split them. In college every game means so much in terms of your RPI and seeding. The schedule takes some getting used to. In the NBA you get used to playing four or five games a week. In college you might only play one.
How has it been for you so far at the University of Memphis?
My experience at the U of M has been great. Memphians eat, breathe and sleep Tiger basketball. Denver is a Broncos town, so at best the Nuggets were second banana. It's been fun to be part of a program that the fans are so passionate about.
Many sports writers criticize this job because in the past many schools have used this position as a revolving door to potentially help recruit players. This doesn't seem to be the case with you and do you think that is something that has benefited Memphis under Josh's tenure?
Well, the NCAA put some rules in place before I was hired that basically restrict the hiring of anyone in non-coaching positions who are associated with recruits. So that has changed. What I think I bring to Coach's staff is someone who has related with players at the highest level, has seen a lot of basketball and thus many different situations, who is loyal and can handle adversity.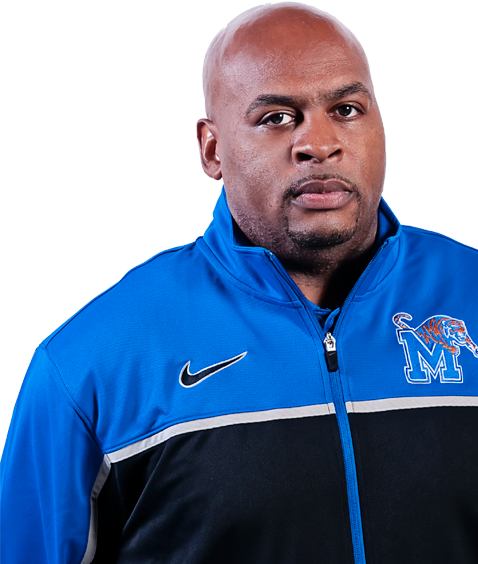 NUMBER OF SEASONS WITH THE TIGER'S:
2
EXPERIENCE:
2012-2014 UNIVERSITY OF MEMPHIS ASSISTANT COACH
2008-2012 MARQUETTE UNIVERSITY ASSISTANT COACH
2006-2008 FAIRFIELD UNIVERSITY ASSISTANT COACH
2003-2006 MARSHALL UNIVERSITY ASSISTANT COACH
2000-2003 HOWARD UNIVERSITY ASSISTANT COACH
1997-2000 UNIVERSITY OF COLORADO ASSISTANT COACH
EDUCATION:
CLARK ATLANTA UNIVERSITY - BACHELORS IN COMMUNICATIONS
What was the most important factor in your decision to come to Memphis?
A lot of factors went into my decision to come to Memphis. The one thing I kept coming back to was the potential of the program. The potential to win a National Championship; the potential to recruit All American caliber players; the potential duplicate and surpass the success we have enjoyed in C-USA, in the Big East. I love challenges and Memphis fit what I was looking for.
What was the most important factor in your decision to come to Memphis?
You always hear about how passionate the fans are, but until you spend time in the city; you can't really understand how deep rooted that support is.
Are there any players or coaches or both that you have been impressed with that you didn't know much about before your arrival at Memphis?
From top to bottom, I have been impressed with all of the people within our program but I think Damon has impressed me the most. He has a really good feel for how to teach and coach our guys and that is something that great players often struggle with, but I don't sense that with him.
Since you have been here what players, in your opinion have put in the most work in the off season to their play for the 2012 -13 campaign?
I think this group has really worked hard at being a TEAM. We will experience some bumps in the road but, hopefully the focus on TEAM will enable us to pull through those tough situations.
What has the experience working with Josh Pastner been like compared to working with Buzz at Marquette? He seemed to do a great job at finding developing talent the last couple of years. Do you think Memphis fans can expect the same success for you here?
As an assistant, you have to know who your head coach feels comfortable coaching. There are certain qualities that the head coach wants and more so than the talent level, you have to understand what those qualities are. I think as a staff we have identified what Coach Pastner looks for and we are seeking out young men who fit that criteria. I may be the lead on a recruit, but our program signs kids not one individual. Every facet of the University of Memphis, including the support we receive from the community helps us sign great players. This is what makes the University of Memphis such a great job.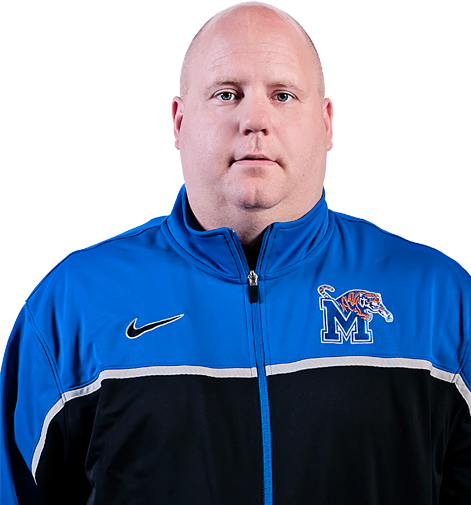 NUMBER OF SEASONS WITH THE TIGER'S:
5
EXPERIENCE:
2009-2014 UNIVERSITY OF MEMPHIS BASKETBALL ATHLETIC TRAINER
2001-2009 UNIVERSITY OF NORTH TEXAS BASKETBALL ATHLETIC TRAINER
2000 NEW YORK GIANTS SEASONAL ASSISTANT ATHLETIC TRAINER
2000 TEXAS RANGERS MINOR LEAGUE AFFILIATES ATHLETIC TRAINING COACH
1997-1999 PORTLAND TRAIN BLAZERS SEASONAL ASSISTANT ATHLETIC TRAINER
1998 OAKLAND RAIDERS TRAINING CAMP ASSISTANT
EDUCATION: UNIVERSITY OF SOUTHERN MISSISSIPPI - BACHELORS IN ATHLETIC TRAINING
Describe your job to us?
I provide the day-to-day medical care for our student-athletes in conjunction with out team physicians. We focus on multiple disciplines including prevention, evaluation, treatment, and rehabilitation of athletic injuries and illnesses.
Was the transformation from working with professional league to college sports difficult?
The resources we have and the care we offer at the University of Memphis is on par with professional sports. So, in that regard, there were few changes. Balancing our players academic schedules with treatment, strength and conditoning, and practice times would be the biggest difference.
How are you enjoying the city of Memphis?
Love it! There are always interesting cultural events, concerts, and festivals. That, coupled with the diversity of people and amazing food (so much more than just the bbq) make Memphis a wonderful place to live! Plus, with the Redbirds and Grizzlies games it's enjoyable to get to be a spectator from time to time.
How often are you in the gym with the players?
I work with our players everyday. In Athletic Training, even the "off days" include some form of treatment, rehabilitation, or active rest activities for our players.
Is being a professional trainer something you've always wanted to do?
As a Certified Athletic Trainer I have had the honor and privaledge of working with athletes or active people in an amazing variety of sports and events. The University of Memphis Basketball Program provides me the perfect balance of getting to practice my trade with amazing athletes and young men and getting to do it in the premier setting in college basketball.
What is your personal goal for the overall team?
National Championship. It guides everything we do. A celebration parade down the Main Street Mall and Beale Street heading into FedEx Forum sounds like an amazing way to celebrate an early April afternoon.



NUMBER OF SEASONS WITH THE TIGER'S:
2
EXPERIENCE:
2012-2014 UNIVERSITY OF MEMPHIS ASSISTANT DIRECTOR OF OPERATIONS
2009-2012 WEST ALLIS/WEST MILWAUKEE SCHOOL DISTRICT COUNCELOR 2009-2011 WAUKESHA SOUTH HIGH SCHOOL BASKETBALL ASSISTANT COACH
2008 INDIANA UNIVERSITY BASKETBALL INTERN
2005-2008 MARQUETTE UNIVERSITY BASKETBALL GRADUATE ASSISTANT

EDUCATION:
CARROLL COLLEGE - BACHELORS IN PHYCHOLOGY
MARQUETTE UNIVERSITY- MASTER'S IN SCHOOL COUNSELING
PLAYING EXPERIENCE:
1999-2000 UNIVERSITY OF WISCONSIN
2013-2014 SEASON QUESTIONS
This is your second year as Assistant Director of Operations for the Men's Tiger Basketball. How are you settling in?
Honestly, the transition from the beginning until now has been fairly easy becauseI feel we have an outstanding all-around staff that works well individually and collectively to help make this the best program it can be.
As the Assistant Director of Operations, you work with Eric Sebastian maintaining the program's goals, responsibilities, schedules, etc. What duties seem more like benefits?
For me personally, anything I do in regards to serving this University and basketball program is a true honor and I feel extremely grateful to have this opportunity.
Marquette's 2007-2008 Director of Basketball Operations, Jason Rabedeaux, described you as "a work horse...film edits, practice, scouting, special projects...this guy can do it all...when he sleeps, I have no idea." With a Master's in Counseling and anyone that has worked or played with you has glowing reviews, what made you decide to leave Marquette and give your services to your hometown's school district as a counselor and an assistant coach for your old high school, Waukesha South High School from 2008-2012?
I have always been passionate about trying to help and serve others and have always believed in the positive correlation between counseling, coaching, and teaching. I absolutely loved the three years I served as a school counselor mainly teaching character education to the youth, and it has really helped me become better in this current profession. Again, I have a tremendous "attitude of gratitude' for all of the opportunities to help and try make a difference - and to me, that is my life mission.
You were apart of University of Wisconsin's 1999-2000 basketball team who made it to the Final Four. Having insight as a player, what advice do you have for the 2013-2014 team?
We all believe, as a program, if we work as one and give maximum effort, the process and journey will yield great results.
You have traveled all around the U.S while playing and working for college programs. Do you have a favorite arena/stadium? If so, what stands out about this particular one?
That's an easy question to answer... My favorite arena, because it serves as both an elite college and NBA home, is the FedEx Forum. I love the passion and energy of the fans, the culture and excitement of it being located in the heart of downtown, and the love affair between the Tigers and its city. My favorite place on the road is Madison Square Garden because of its rich history.
2012-2013 SEASON QUESTIONS
Give us a brief description of your daily routine?
My daily routine consists in assisting with recruiting, operational management, summer camps, overseeing the managers, and practice/game duties.
How often are you traveling?
I travel with the team to all away games and enjoy visiting my family/friends back home in Wisconsin when I can.
Is the pace much different compared to your last position?
This is an elite program and recruiting is obviously a primary focus – and "recruiting never sleeps."
With so many tasks, how do you fit time in to sleep?
Haha – good question as I'm still trying to figure that out.
How does it feel to be a Memphis Tiger?
To be honest, I networked with Coach Pastner for two years prior to coming here in May of 2012… I invested a lot of time, effort and energy because I always envisioned Memphis as my dream job… I am beyond happy and grateful to be in this position – it truly is a special place and opportunity.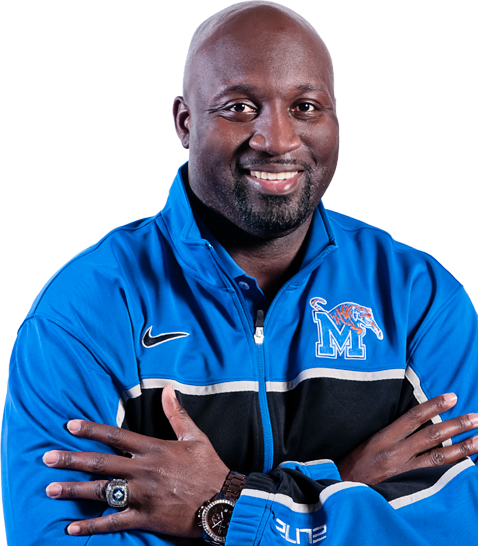 NUMBER OF SEASONS WITH THE TIGER'S:
3
EXPERIENCE:
2011-2014 UNIVERSITY OF MEMPHIS OPERATIONS ASSISTANT
2009-2011 LOUISIANA STATE UNIVERSITY FOOTBALL GRADUTATE ASSISTANT COACH
EDUCATION:
UNIVERSITY OF ARIZONA - BACHELORS IN SOCIOLOGY
LOUISIANA STATE UNIVERSITY - MASTERS IN KINESIOLOGY
PLAYING EXPERIENCE:
2004-2008 UNIVERSITY OF ARIZONA FOOTBALL
How has the adjustment been from football to basketball?
It's been a very smooth transition for me, it helps when you work with some really talented individuals that are quality people first. I've been able to impact these young men on a daily basis off the court and help them prepare for life away from basketball.
What are you typically doing on a daily basis with the team since your involved in a non-coaching role?
Well my day usually consist of checking on the guys in terms of class checks and making sure they are meeting with their study hall counselors and attending all required appointments.
When did you first realize how passionate the fans are for the Home town tigers?
I'd say our Trip to Maui last November was a eye opener for me. Tiger Nation fans came out in full force and by far the largest and loudest fans in Maui last season.
What are you looking forward to with this 2012-13 group of Memphis Tigers?
I truly believe our best basketball is ahead of us and it's gonna be an exciting time again to be a Memphis Tiger Basketball fan. One Team,One Goal,No Egos!
Being from New Orleans,LA. and home to some of the finest food around, how does Memphis compare?
Wow your trying to jam me up I see lol.... I'd say Memphis can hold it's own with any city when it comes to cooking a quality meal but New Orleans is tough to top. I love both!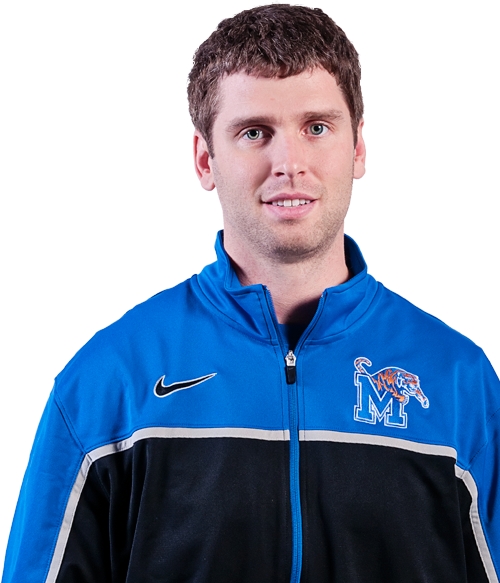 2013-2014 SEASON QUESTIONS
You previously explained your daily duties range from editing requested game footage to organizing scouting reports. Having to highlight players strengths and weaknesses over and over, do you begin to pick up what Coach Pastner may want viewed even before he asks?
Always, so much that we break our games down a certain way so that if he asks for all our opponents, our TO's, etc. I can have them for him with one click of a button.
As Memphis' Video Coordinator and editing basketball videos daily, you have a dream job for most fans. What has been a memorable experience that only working for Mens Tiger Basketball can offer?
Working with these talented groups of players that we've had year-in and year-out on a daily basis has been an experience that not many people get to have. Also, the places we've played (Bahamas twice, Maui, NYC, etc) are amazing. I can tell you that I wouldn't have been able to travel like I have if it weren't for Memphis Basketball.
You majored in Business Management. How has this knowledge and training helped you with your career presently?
I think understanding the management side has been important. I've' been blessed to have some great student help (James White and Jeffrey Paller) that I wouldn't have bee able to get near as much done in this office without them. Being able to delegate and "manage" our office has been due to my business background.
You have been working for the Memphis Tigers for 5 years, are married to a Memphian, and have siblings working in Memphis and attending the U of M. Why do you think you and your family has chosen to become so intertwined with Memphis?
Memphis is a great place; it's a family atmosphere. Our staff is a tight-knit group, and there's just no other fans like the Tiger Nation.
For the 2013-2014 season, what team are you most looking forward to Memphis playing?
Whoever we play in the 1st round of the tournament! I want to get to Dallas!
2012-2013 SEASON QUESTIONS
What does your job as video coordinator entail?
It is really hard to put an exact title on what I do. I'm basically here to do whatever the coaches or players need from me. I do everything from organizing film exchange with opponents, getting film from common opponents, break down that film so it is organized for our coaches, put together scouting reports based on those breakdowns, make edit tapes to show our players what they need to know about our opponents, and create highlight/hype videos for our players and team. However, that's just the video stuff; I also help stat our practices and games, assist in on-campus recruiting, and used to live with our players up until I got married earlier this year.
How many videos are you shooting and editing a day?
Again, it all depends on what time of year. During the season, we obviously tape our practices and after coach gives me the clips that he wants to show, I'll put them on an edit to show our players the next day in practice. As far as opponent scouting, I usually break down the previous 6-8 games that they play before they play us to try to get play calls, tendencies, and personnel (individual player strengths/weaknesses). So it depends on who we're playing and when, but usually I break down 2-3 games per day in-season.
Is visual media something you've always had a passion for?
To be honest, not really. It's something I've picked up over the past four years, and I've realized how important it is. But I came to Memphis in hopes of getting experience, hoping for a career in coaching. Video is a phenomenal way for young coaches to get their foot in the door and learn more than you can even comprehend about the game. I thought I knew a lot about basketball before, but when I'm in the film room for hours a day breaking down tape, I've realized how little I actually knew.
What does it feel like to have a new addition to your family?
My wife Julie and I just had our first child on October 4th, Kynlee Grace. She is absolutely beautiful (good thing she got her mother's genes), and we love her more than anything. Except when she is screaming at 3am, but even then, she's amazing.
How is the transformation from grade school to college sports?
I started coaching middle school basketball in college in Michigan because a friend of mine was the varsity coach and his middle school coach quit right before the season. At first, I was just doing it to help a friend that was in a bind. But I fell in love with coaching, and realized that I wanted to see if I could break into the coaching profession. I caught a couple huge breaks, and Coach Pastner gave me an incredible opportunity.
Do you ever get homesick?
I don't really get homesick at all, especially in the winter. It's been an easy transition for me; first of all, my wife is from here, so her family is my second family. Secondly, both my sister (teaches in the Memphis Teaching Residency program) and brother (freshman manager at U of M) have since moved to Memphis. So my parents make several trips down here every year, although now they'll probably be more for Kynlee than for me.
Is there a ritual you have during basketball season like wear lucky socks, or do you wear a special game day shirt?
I'm very superstitious. I toy with different things. I know it's weird, but mainly I mess with my shaving habits. I'll shave on every game day until we lose. Then I'll shave the day before until we lose, etc. I'll do the same thing with a certain white under shirt (wear it until we lose). Hopefully I find the right combinations early!
NUMBER OF SEASONS WITH THE TIGER'S:
5
EXPERIENCE:
2012-2014 UNIVERSITY OF MEMPHIS BASKETBALL VIDEO COORDINATOR
2009-2011 UNIVERSITY OF MEMPHIS BASKETBALL VIDEO MANAGER
EDUCATION:
GRAND VALLEY STATE UNIVERSITY - BACHELORS IN BUSINESS MANAGEMENT
UNIVERSITY OF MEMPHIS - MASTERS IN SPORTS MANAGEMENT


NUMBER OF SEASONS WITH THE TIGER'S:
5
What is your education background?
I am in my senior year completing my B.S. in Sports Management.
How is school coming along?
School is great. I am really blessed to be in the position that I'm in; studying a subject that I enjoy, while gaining valuable experience in the field that I ultimately want to work in.
What is your job description?
Ultimately as managers our job is to work hard to make sure that the coaches and players can concentrate completely on basketball, leaving the logistics to all of us in the support staff. Under the direction of Dir. Of Operations Eric Sebastian, it is my role specifically as equipment manager to order and maintain our shoe, apparel, and sports equipment inventories through Nike and our other vendors. I must meet the equipment needs of our players and staff, both at home and on the road. Additionally, I assist with team travel, and am on the court in practice and at games.
Is it sometimes challenging when you have to get equipment and gear ordered by deadlines when you also have loads of homework due?
This business, just like this game, is fast paced. You have to stay on top of the day to day, because things will always come up last second. No matter what you do in life you have to deal with deadlines. School is no different; it's just another color to add to the day planner.
Congrats on getting married. Has your life gotten hectic with work and being a family man?
It doesn't feel hectic when it's for things you love; I love my job and I love my wife. She is the best thing that's ever happened to me, best decision I've ever made.
How long have you been here at U of M?
I joined in May 2009, shortly after Coach Pastner was hired.
Are you originally from Memphis?
Born and raised. I've been a Tiger fan my whole life. My parents went to UofM, and I first saw the Tigers play in the Coliseum.