The tigers spent the weekend turning up the pressure.  It was all defense on Friday and Saturday.  It was easy to tell that the Tigers are hungry to play against another opponent from watching these practices.  Ferrakohn Hall showed his intensity during the first half of practice, while Stan Simpson continued to show why he may be the most improved player on the team.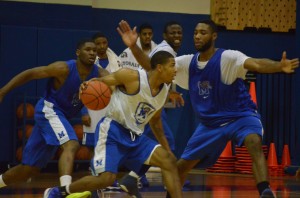 The Tigers continued to work on their man to man defense and rebounding.  During the second half of practice it was as if the light came on for freshman Shaq Goodwin, who showed the great rebounding skills and the strong motor that coach Pastner has told everyone Goodwin has.
The Tigers will be putting their defense to the test this Saturday in a closed scrimmage against the University of Alabama.  Stay tuned to Insidememphisbasketball.com for all your inside Tiger basketball information.