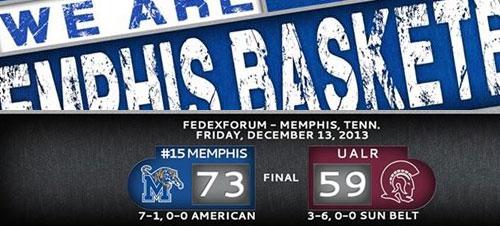 Memphis pushes back University of Arkansas-Little Rock
Memphis wins against UALR with a score of 79 to 53. Go Tigers!
Pastner Donates $250,000 to the Memphis Athletics
A gift of $250,000 was presented to the Memphis Athletics Department from Coach Josh Pastner. This donation has made history as the largest single contribution from a Memphis Tiger's Coach.
University of Memphis President, Brad Martin, announced earlier this fall his plan calling for "construction of a new men's basketball practice and training facility, an indoor football practice complex, and a softball clubhouse, which includes indoor batting areas. It will additionally fund comprehensive upgrades and renovations to existing facilities, such as FedExPark and the Hardin Family Sports Complex. The upgrades will include improvements in common-use facilities that benefit each of the Tigers' 18 athletics programs."
This adds to Bill and Nancy Laurie's generous donation of $10 million. The former Memphis Tiger basketball player and his Memphis Alumni wife announced December 2nd their contribution by stating, "We are honored and gratified to play a role in support of the institution's commitment to help guide current and future student-athletes toward their ultimate goals in life."
We are honored to have your support!
With a goal of $40 million, we are well on our way, thanks to these hefty and charitable donations.
Toys For Tigers
Thanks to you, our Tiger Nation, for donating unwrapped, new toys for our 2nd annual 'Toys for Tigers' drive. The toys given at the Memphis vs UALR game and accepted at the Athletics Hall of Fame until December 17th will be presented at the Hickory Hill Community Center to local children who regularly visit the 24 community centers in Memphis on December 20th.