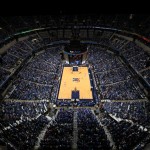 INDIANAPOLIS, Ind. – Josh Pastner has said repeatedly that he will put Tiger Nation up against any other college basketball fan base in the country, and the NCAA Division I hoops attendance figures for the 2010-11 season released Wednesday prove the University of Memphis head coach correct.
For the fourth-straight year, Memphis ranked in the top-10 in home attendance in NCAA Division I basketball. The Tigers' 2010-11 home attendance average was 16,768, which was No. 8 in the nation. Memphis was also one of six programs to have a total home attendance of over 300,000.
"This comes as no surprise to me, but I want to say a special thanks to our amazing fans for their support," said Pastner. "We had a young squad this past season, and I can't tell you how much a lift it gave us to come out every game and see a packed FedExForum cheering for us.
"Our fans are tremendous, and we're looking forward to another exciting season of Tigers basketball in 2011-12."
Memphis played 19 home dates at FedExForum in 2010-11 and had 17-2 home record in those contests. For all 35 games (home/away/neutral), the Tigers ranked No. 15 in the nation with a total attendance of 468,052 (13,373 average).
It is the fourth-consecutive year Memphis ranked in the NCAA Division I top-10 in home attendance. The Tigers were eighth in 2008-09 and 2009-10 and 10th in 2007-08. Memphis also finished in the top-10 in home attendance in 2000-01, 2001-02, 2002-03 and 2003-04.
In 2010-11, the Tigers posted a 25-10 overall record, won the Conference USA Tournament championship and earned an NCAA Tournament berth.