It's just a few hours till the start of the first game of the season and the Larry O. Finch Center basketball court is empty, except for one lone shooter.
Joe Jackson takes shoots from all around the three point arc. One after another, shots go in and then Jackson moves the free throw line.  Just as from behind the three-point line, the net rings throughout the Finch Center with a swoosh sound.
Jackson, who shot 31.1 percent from the three-point arc and 72.6 percent from the free throw line last year, is trying to improve on those percentages for this year.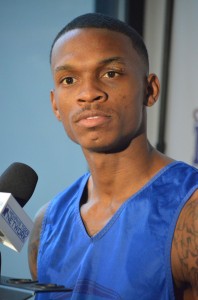 Jackson was recently named as one of captains of the team, along with Chris Crawford and Tarik Black.
In a recent interview Jackson said, "We have to lead by example both on and off the court."  It is apparent from the extra work that Jackson is putting in that he plans to do just that as he helps lead the Tigers this year.
Jackson, a junior, has played in 35 games, making 27 starts … Averaging 9.9 points, 3.1 assists and 2.1 rebounds … Has 35 steals and five blocked shots.